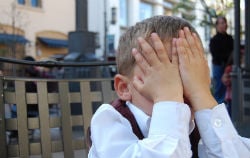 When piracy hits the mainstream news, it's often in relation to books, games, music, TV-shows and movies.
These industries grab headlines because of the major players that are involved, but they are not the only ones dealing with piracy.
In the age of social media, photographers are arguably the most pirated creators of all. Many people don't even consider 'copyright' when sharing an image they find online.
That can be quite frustrating for people whose livelihoods depend on selling photos, especially when commercial outlets use their work for free. This issue was highlighted again this week by photographer
J. Salmeron
.
This summer he took a great shot of Alissa White-Gluz of the metal band Arch Enemy at the Fortarock festival. The photographer posted it on Instagram where it was well received. Even by the singer herself, who re-posted it on her account.
Technically, nobody is allowed to repost photos without permission but Salmeron generally doesn't object to fans sharing his work. When it's used for commercial purposes, however, it becomes a problem.
So, when the photographer, who also happens to be a lawyer, noticed that "Thunderball Clothing" used the photo to promote their goods – which the singer was wearing – he decided to take action.
Thunderball Clothing's instagram post
In an email to the company, Salmeron pointed out that he would generally request a licensing fee of at least €500. However, in this case, he would be happy if the company donated €100 to the Dutch Cancer Foundation.